There are no more items in your cart
Shipping

Free

Total

€0.00

LE SPECIALISTE DU TOILETTAGE
 
AGC polyethylene bathtub - Electric frame lift with anti-splash - TURQUOISE
Elevating bathtub on electric chassis, anti-splash, foot remote control
Creation and manufacturing 100% FRENCH
100% recyclable plastic

100% secure payment

Free shipping from 59 € HT - 48h delivery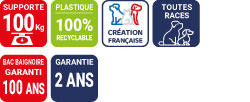 Available on 01/04/2023
AGC CREATION electric bath lift on electric chassis - complete with double stainless steel bracket and chains
The AGC CREATION bathtub, created by Alain GIRAULT for grooming salons, is suitable for all breeds of dogs and cats.
Creation and manufacturing 100% FRENCH
100% recyclable plastic
Supports up to 100 kg.
Available in fuchsia, royal blue, turquoise and granite grey.
-We designed our V-shaped AGC tub tubs to make canine grooming as easy as possible by allowing range of motion for the groomer.
-The dog also feels very comfortable, having a lot of space at the level of the head and little space at the level of the legs, it thus avoids moving for the comfort of each one.
-The choice of plastic: we design our material to best facilitate the work of groomers, in fact, this material is very easy to clean,
In addition, it is extremely resistant and durable over time for a minimum of maintenance. Unbeatable reliability.
-The plastic we use is produced in France and 100% recyclable, in case you want to recycle a material that will still be in working order in a century...
fit with:
- M629 stainless steel feet
-the M631 electrical chassis
Tray dimensions:
-1.53M Width
-0.53M Depth
-0.71M Length
Dimensions of the doors:
-33.5cm wide
-32cm tall
Space between the bottom of the doors and the bottom of the tub
-18cm
It is equipped with an incorporated anti-slip bottom, with 1 anti-slip dual-use tray:
- in intermediate position, 1 booster seat for small dogs
- in low position, eliminates foam after rinsing.
Its metal frame offers a variable height of 46 to 103 cm with foot remote control.
Anti-fatigue: with its 2 doors, it can be installed wherever you want.
Simple: universal water and sewer connection or with our drain.
Scalable: you can easily switch from the manual version to the version on an electric chassis with foot remote control.
This pack is composed of:
 - a colored metal frame with electric actuator and remote control ref. M609
- a double stainless steel stem ref. M625
- a 2m chain ref. M627 and a 1.5m chain ref. M626
- a bath tub ref. M871T
- anti-splash ref. M881T
- a faucet kit ref. M848
- a shower head ref. M663
- an evacuation plug ref. M630
- a booster seat ref. M730
- two universal shampoos 5L ref. C916
- two 5L shampoo pumps ref. C952
Optional:
- A second booster ref. M730
- 1 or 2 access ramps ref. M847F
Brand: AGC CREATION
Reference: M848
Plumbing kit for Evolutech bath
Reference: M838R
4 ROBUST WHEELS INCLUDING 2 SELF-LOCKING
16 autres produits dans la même catégorie :